Students undergo clinical training in various departments and are actively involved in ward rounds and therapeutic care management under the supervision of the physicians and consultants of the respective departments.
To provide quality patient care, the college has established a Patient Counselling Centre and Drug Information Centre (DIC) at the Hospital. DIC provides up-to-date information on drug profiles, adverse drug reactions, drug interactions, dosage and pharmacokinetics and can be accessed by all doctors. Queries can be sent to dicclbaid@gmail.com.
National Board of Examinations
The VHS Hospital is a recognised and accredited institution by the National Board of Examinations for courses in the branches of Neurosurgery, General Surgery and Obstetrics and Gynaecology.
The institution has an excellent teaching faculty for these courses by utilising the services of experts in the respective branches, who are having vast experience in post-graduate teaching, from Government and Non-Government institutions.
There has been an exchange of students from other major accredited institutions (like Public Health Centres, the Railway Hospital, etc.). Many CME programmes, panel discussions, symposia with journal clubs, and workshops are being conducted in the hospital in order to update the academic knowledge of Diplomate of National Board (DNB) students. The students are also deputed to such programmes conducted in other institutions.
List of DNB thesis during the year 2017-18
GENERAL SURGERY
To assess the efficacy of percutaneous catheter instillation of local anaesthetics for post-operative pain relief in inguinal hernia repair. (Completed during 2017-18)
Determination of the Concordance rate between core needle biopsy (CNB) and Post-Operative histopathology of the resected surgical specimen for accurate evaluation of hormonal and prognostic receptor status in breast carcinoma (On-going)
Correlation of BISAP (Beside Index in Severity of Acute Pancreatitis score outcome in patients with Acute pancreatitis) (Future)
NEUROSURGERY
Management protocols in Temporal Lobe contusions prospective and retrospective study. (Completed during 2017-18)
Outcome in Surgery for cervical spondylotic Mylopathy – A Prospective Study. (Completed during 2017-18)
MIB-I Index in High grade Glioma and its prognostic correlation (Completed during 2017-18)
Lumboperitoneal shunt in the management of Pseudo tumour Cerebri (Ongoing)
Auditory brain stem Implant & factors affecting its outcome in patients with congenital deafness (Ongoing)
Role of tranexemic acid in chronic subdural haematoma (Future)
GYNAECOLOGY & OBSTETRICS
Factors influencing initiation and continuation of Breast feeding in Urban South Indian women (Completed during 2017-18)
Correlation of Early pregnancy lipid profile with development of Gestational Diabetes Mellitus (Completed during 2017-18)
Outcome of Pregnancy in women with Sub Clinical Hypothyroidism (Completed during 2017-18)
Thyroid Functional Aberration in Abnormal Uterine bleeding and Infertility (Ongoing)
Asymptomatic bacteriuria and its outcome in pregnancy (Ongoing)
Community Health
Formal and non-formal training is offered at the Model Health cum Training Centre at Thuraipakkam.
Formal training covers students under DNB (Family Medicine), MD (Community Medicine), Compulsory Rotatory Resident Internship (CRRI), M.Sc. (Nursing), and B.Sc. (Nursing) courses, and other para-medicals.
Non-formal training is on a need basis, primarily for in-house training as well as catering to requests from other organisations.
Ragas Dental College
Third-year Dental students are deputed to VHS for Clinical training in General Surgery and General Medicine. The consultants and medical officers of VHS function as faculty for the training. VHS is also recognised by the Dr. MGR Medical University for conducting the examination for these students.MDS students from Ragas Dental College were also sent to VHS for internship in specialities.
Training offered
Students from Various institutions were deputed to our Hospital for practical training as detailed below:
Students from Velumailu Siddha Medical College and Hospital and Velumailu Ayurveda Medical College and Hospital, had clinical training in General Medicine, General Surgery, Obstetrics and Paediatrics.
SMART Academy conducts training sessions for the candidates who appear for MRCPCH examination under the leadership of Dr. Rajkumar.
VHS – M.A. Chidambaram College & School of Nursing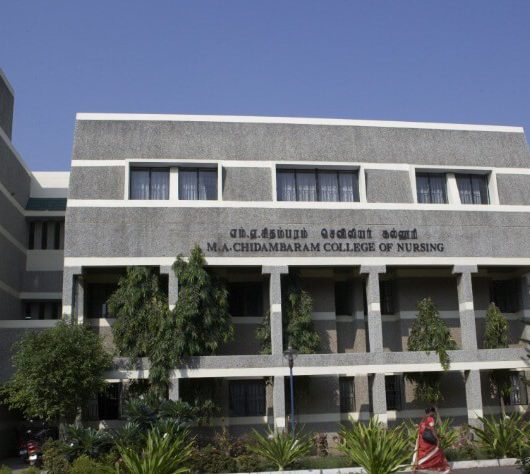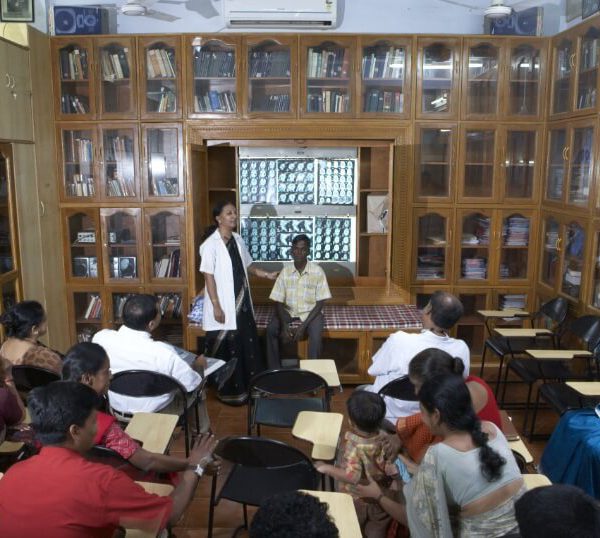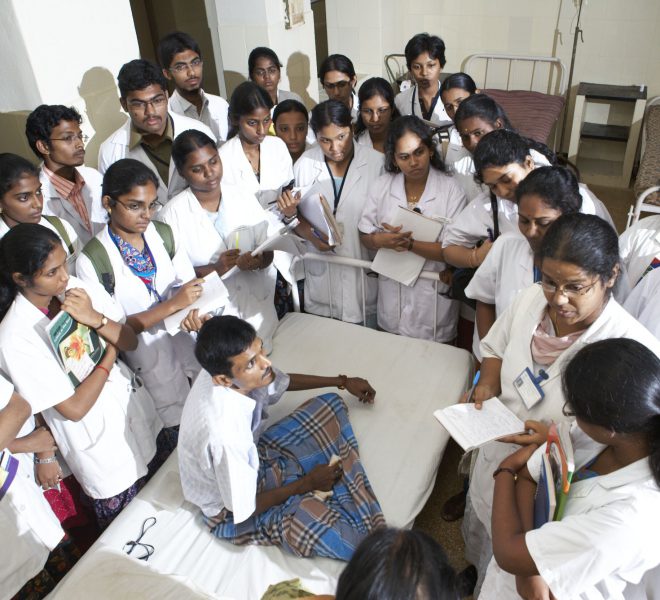 The M.A. Chidambaram College & School of Nursing has conducted the B. Sc (N) programme since 1992, M.Sc (N) programme since 2001, Post Basic B.c (N) since 2011 and the DGNM since 2001 under the auspices of MAC Educational Foundation. The total intake of students for DGNM is 20 per year, for B.Sc (N) 50 per year, for M. Sc (N)it is 13 per year and for the P.B.B.Sc (N) it is 30 per year. The pass percentage in the final year examination for all of the programmes is 99-100%.
The college and school has various units such as the Student Nurses' Association (SNA), the National Service Scheme (NSS), Voluntary Blood Donor's Club (VBDC), Youth Red Cross (YRC) and Red Ribbon Club (RRC) which has organized and conducted various programmes.
World Health day was commemorated on 10.04.2017. Dr. Mala, Psychologist, Counsellor, VHS, delivered a guest lecture on the theme "Depression- Let's talk".
International Midwives day was commemorated on 05.05.2017. Dr. Naseem Amir, Consultant at VHS delivered a guest lecture on the Importance of Partnership in Pregnancy, Birth and Parenting process. Commemorating World No Tobacco Day, the students participated in a Human Chain formation on the theme "Tobacco – A Threat" organised by the Tamil Nadu Health Ministry on 31.05.17 at Madras Medical College Hospital, E.V.R Salai.
A State level workshop on Statistical Analysis and Its Interpretation was organized by the college for the faculty members from 01.07.2017 to 02.07.2017 which was sponsored by the management. Dr. A. Ravanan, HOD, Department of Statistics, Presidency College was the Chief Guest as well as the key speaker.
The Alumni Association of MACCON & SON organized the first State level Seminar on "Getting ahead without getting behind- The Motivational way" on 23.09.2017. Commemorating World Heart Day, a Guest Lecture on "Preventive Cardiac Care" was delivered by Dr. Su. Thillai Vallal, Senior Consultant Cardiologist, Managing Director, Venkataeswara Hospitals on 03.10.2017.
A Dengue awareness programme was organized on 24.10.17 in the college auditorium
Dr. Rajamanickam, Vector borne disease consultant from Directorate of Public Health gave a lecture on the prevention and management of dengue fever.
The Silver Jubilee valedictory programme was conducted on 18.11.17 at Raja Annamalai Mandram. Dr.A.C. Muthiah, Managing Trustee & Senthamizh Thilagam Dr. (smt). Devaki Muthiah, Trustee, MAC (Educational) Foundation presided and Dr. Ani Grace Kalaimathi, Registrar, Tamil Nadu Nurses and Midwives Council attended as the chief guest.
Dr. Joseph D Williams, Director Projects, VHS delivered the special address. All faculty members and students were honoured with the silver coin.
On 23.12.2017, Lamp lighting ceremony for B.Sc (N) and DGNM students and graduation ceremony for B.Sc(N), 21st batch; DGNM, 13th batch; PBBSC(N), 4th batch and M.Sc(N), 14th batch was conducted. Dr. S. Kanchana, Principal, Omayal Achi College of Nursing lit the Florence Nightingale lamp and Dr. M. Kumaresan, Virtual Reality Director, Siva ENT Hospital, Chennai, the Chief Guest addressed the students and distributed prizes and certificates.
National Martyr Day was commemorated on 30.01.2018. Mr.P.Pandian, President, Dakkar Baba Vidhyalaya, GIFT delivered a speech followed by which the students participated in a Peace rally from the college campus till Gandhi Mandapam.
On 10.03.2018, the XXIII Annual Sports Meet was organized in the college premises. Dr.A.C. Muthiah, Managing Trustee & Senthamizh Thilagam Dr. (smt). Devaki Muthiah, Trustee, MAC (Educational) Foundation presided and Mr. Bosskey, Former Vizzy Trophy Cricketer & Film and T.V personality was the chief guest and declared the sports meet open.
On 24.03.2018, on World Tuberculosis Day, NSS volunteers participated in a rally organized by the Indian Development Foundation and Gremaltes Hospital at Elliots Beach, Besant Nagar.